Description of JS500 Concrete Mixer
China JS500 concrete mixer is double shaft compulsory concrete mixer. More advantages of this concrete equipment:
JS500 concrete mixer is a biaxial forced concrete mixer. More advantages of this concrete equipment:
1. Run alone.
2. This series of machines are designed with reasonable structure, novel layout and easy to repair and use.
3. The height of leg support is designed to be 1500mm
4. Customers who buy discount JS500 concrete mixer can combine the mixer with the dumper, the dumper and the mixer.
Features of JS500 Concrete Mixer
1. Excellent mixing performance
2. Wear-resisting lining board
3. Shaft-end sealing technology
4. Multiple protection devices
5. Heavy-duty design, easy to operate and low noise
Application of haomei js500 twin shaft concrete mixer
1.China JS500 concrete mixer can mix dry concrete, malleable concrete, wet concrete, light aggregate concrete and all kinds of mortar.
2.The mixer is suitable for all kinds of large and medium-sized prefabricated factories, construction sites, roads, Bridges, airports, tunnels, etc.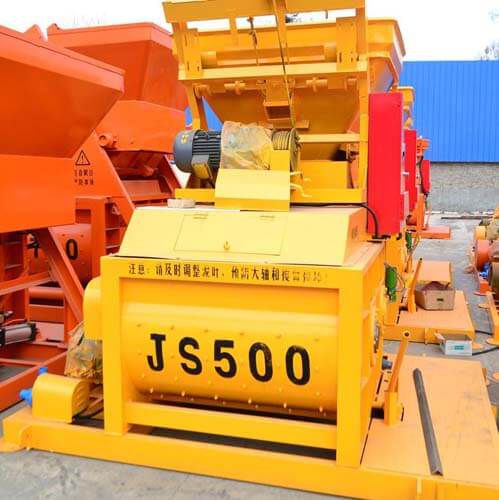 3.JS500 concrete mixer for sale: light brick mixer, manual clay brick mixer, biaxial concrete mixer, JS500 concrete mixer.
What is a self-propelled rolling mixer
Self-falling rolling mixer. buy discount JS500 concrete mixer has no mixing fan blades. It is mainly caused by the rotation of the entire mixing bucket of JS500 concrete mixer, that is, the blades attached to the mixing bucket bring the material to the air, and then rely on the gravity concrete mixing station to fall below the mixing bucket, which repeats cycles. So as to achieve the effect of stirring.
To put it simply, it is to rely on the rotation of the mixing bucket to achieve the effect of mixing. For example, the mixing bucket of the concrete mixer truck we often see on the construction site or on the road is this way. The mixing of this system is usually Both require a relatively small power of the stirring motor. This is relatively compulsory, but it takes longer to stir, and it will cause less damage to the agitated material. Our domestic construction sites. This is the JS500 concrete mixer with factory price commonly used in the past. System, but this type of system generally has a small host capacity. The most common are 0.25, 0.5, 0.75, 1.0, and 1.5 cubic meters, and the larger ones are not much.
According to the current status of use, the time required for this type of mixer to mix homogeneous concrete ranges from 60 to 90 seconds. Compared to a forced mixer, the mixing time is longer and the efficiency is relatively low. Therefore, JS500 concrete mixer is rarely said in China that it is used for large-scale concrete mixing. The sales volume in the small civil construction market is good. It is estimated that the cumulative sales account for about 40% of the total concrete mixer market. Low, more than 10,000 yuan-down, so the total amount of sales is not large.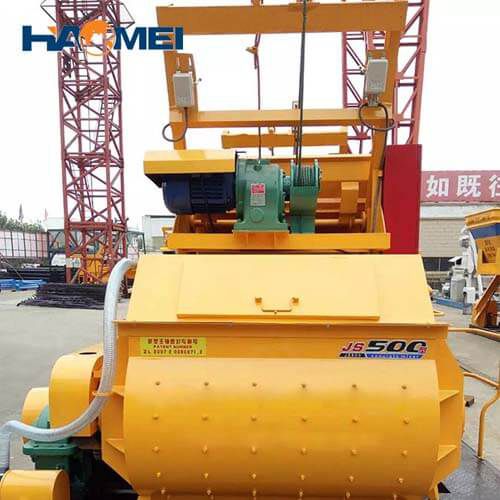 What is the host system of forced concrete mixing station
At present, there are many types of mainframe development of this system. It is estimated that it is in line with the actual domestic habits. It can complete a large amount of concrete production requirements in a short time. Often used are vertical axis planetary mixing type, single horizontal orbital mixing, double horizontal orbit Stirring, vertical-shaft vortex-type stirring, and cone-shaped dumping materials, etc.
But at present, the more commonly used concrete mixers for factory are double-horizontal axis hosts, which can be seen with a capacity of 0.5-4 cubic meters. The most common is the range of 1.5-3 cubic meters. This type of dual-horizontal axis hosts accounts for China's commercial concrete market More than 90% is the main share of the market, and the planets of the vertical axis are used for domestic pipe pile concrete production and block concrete. Cone tipping is mostly used for mixing large-size hydraulic concrete, and other types of mainframes with a capacity of about 3 cubic meters are rare. Single-shaft ones are also generally used in Germany.
What should I pay attention to when buying a concrete mixer?
1. Understand the basic parameters of concrete mixer before purchasing, which JS500 concrete mixer for sale is more suitable for the operation of your company.
2. Depending on the length of use, if it is long and frequent, it is recommended to buy a concrete mixer; if it is used for a period of time or occasionally, it is recommended to rent a concrete mixer business, which is more cost-effective.
3. There is also a record of unpacking after the concrete mixer arrives to see if the instructions and warranty card are complete.
The above are some experiences summarized by JS500 concrete mixer supplier. If necessary, please consult us.
| Specification | Unit | Value |
| --- | --- | --- |
| Discharging Volume | L | 500 |
| Charging Volume | L | 750 |
| Mixing Capacity | m3 | 0.5 |
| Aggregate Size | mm | 60/80 |
| Working Circle | sec | 60 |
| Mixer Motor Power | kw | 18.5 |
| Lifting Motor Power | kw | 5.5 |
| Pump Motor Power | kw | 0.75 |
| Weight | kg | 3000 |
| Dimensions | mm | 3030x2200x2680 |